The 3 for 2 Ticket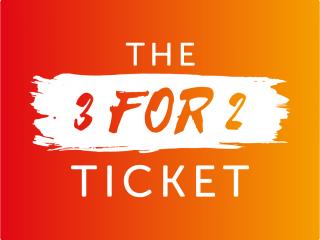 Experience three great Florida parks for the price of two - 3 parks, one great ticket, one low price! PLUS book today and Enjoy UNLIMITED FREE PARKING at all three parks! The SeaWorld 3 for 2 Ticket is only available to purchase in the UK and tickets are activated the first time you visit either park.
SeaWorld: With a host of sensational rides, shows and attractions that put you right at the heart of the marine world, SeaWorld feels like an ocean adventure worthy of the seven seas. Meet amazing marine animals and jump into their world on thrilling attractions and shows. Plus feel the power of a mako shark or glide through the sky with the grace of a manta ray. Let an ocean of fun and adventure wash over you at SeaWorld.
Aquatica: If anyone knows water and parks, it's SeaWorld. So their waterpark must be something special, right? Aquatica is all of that and more, where fun is as endless as the sea itself. A splashy, watery park full of super-sized slides, speedy splashdowns and sandy shores. You'll splash, scream and laze at this beautiful South-Sea inspired paradise. Unwind on a beautiful beach and let the waves wash over you.
Busch Gardens: Florida's wildest rides live at Busch Gardens. This 335-acre adventure park allows you to come within a whisker of some of the world's rarest animals and inhabit their world. Trek, plunge, chase and spin on plenty of hairraising attractions and rides. Get as close to the wild as you dare at Busch Gardens.
Why not add an all-inclusive day at Discovery Cove by booking the Discovery Cove Ultimate Package?
Florida Ticket Terms and Conditions
All SeaWorld Parks & Entertainment admission tickets are valid for 14 consecutive days, with the exception of admission to Discovery Cove, which is a 1 day experience.
Guests must be at least 6 years of age to swim with the dolphins at Discovery Cove. Discovery Cove guests aged 3-5 must purchase the non-dolphin swim package. Children aged between 6-12 years old and participating in the dolphin swim experience must be accompanied by an adult who is also participating in the dolphin swim experience.